news from oneida-news from oneida-news from oneida-news from oneida

  NOVEMBER 22   2001     2  PM POQUETTE FIELD

Sept. 2, 2001

Oneida Wi. - SURGERY CALLED A SUCCESS BY KAT'S DOCTOR

This past week was a milestone in Kat's life and will change her life forever! She had undergone gastric bypass surgery in Belvidere Ill. on tues. morning at the Barriatric Tretment Center Hospital and is on the mend now

KAT GETTING OUT OF BED FOR THE FIRST TIME ON TUESDAY AFTERNOON

She came through the surgery very well with no complications and is healing fast now with some discomfort to the area of the incision. Now she must follow a strict diet and follow the directions of the center and return for her next appointment in two weeks.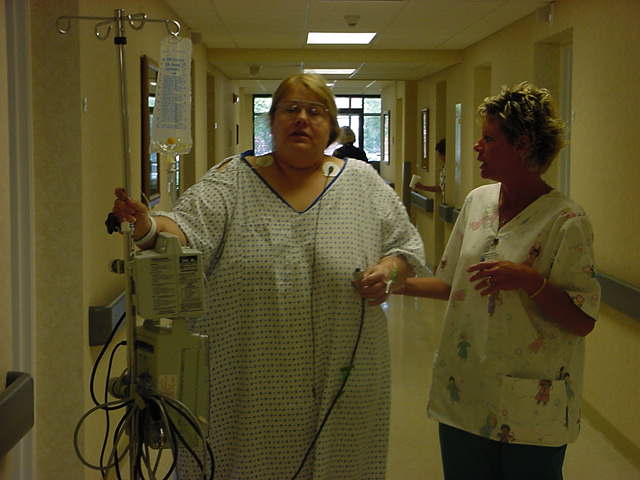 KAT SEEN HERE TAKING HER FIRST WALK AT 5PM, SURGERY WAS DONE AT NOON

All the nurses remarked on how well she did after the surgery and how determined she was. I told them that the old gal was tougher then she would admit. She did have a bad day on Thursday however and suffered most of the day and all night with a headache, probably from morphine withdrawal.

She was discharged on Friday at 1:15 P.M. (1315 hours, for the Purshocks) and we were on our way home by 1:45.

    Due to the fact that regular member Kat, was unable to attend "The Fat Club" meeting on Thursday because of her hospital stay, "The Fat Club" came to her.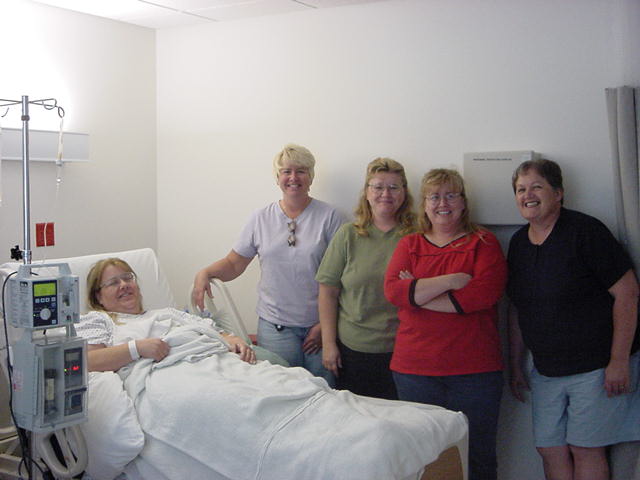 Joanie, Trixie, Marie, and Jean Poquette Hansen temporaraly moved "The Fat Club" meeting to Belvidere Ill. for one week to accomodate the Kat. Kat was most glad to see them and they were glad to see that she was doing well. I took them to lunch and they departed at about 3PM.

FROM LEFT TO RIGHT: KAT, JOANIE, TRIXIE, JEAN POQUETTE HANSEN, MARIE

    Jean Poquette Hansen has aquired a new job at the Wellness Center doing what she does best, data entry. She will continue with her Chicken Night Monarchy and reign over her Chicken Night Subjects. While in Belvidere she was the first one in "The Fat Club" to try the auto check out machine at K-Mart. She liked it and the Queen predicts that it will be a grand success. The Queen had a nasty scar on her forhead from the curling iron when she was doing her hair that morning.

While Joanie was at the hospital she noticed a shirt worn by one of the nurses that has a Wizard of Oz pattern on it and she was wondering where she got it. She replyed that she had gotten it for a gift and didn't know where it came from. So if anyone knows where there is Wizard of Oz clothing available let Joanie, or us, here at The Kat and Mick Report know about it and we will pass it on.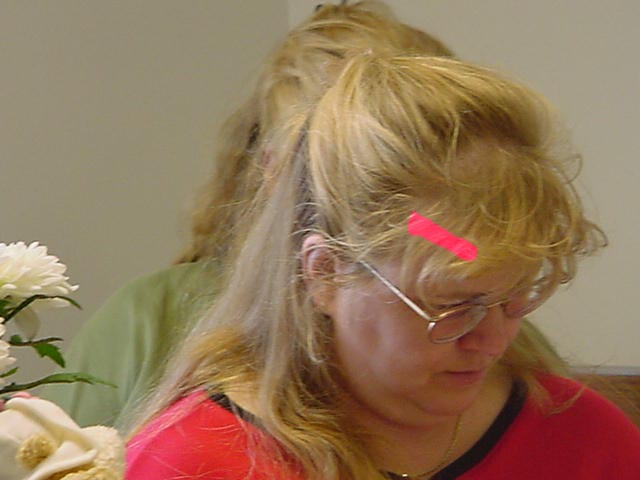 JEAN POQUETTE HANSEN WITH THE BURN FROM HER CURLING IRON STILL GLOWING THROUGH HER HAIR

While in Belvidere and with the Kat on the mend, after I was sure she was going to be all right, I took a little trip to the Illinois Railroad Museum in Union and spent a few hours there and then it was on to Rochelle Illinois where the town erected a park near where the double track Union Pacific mainline

crosses the double track Burlington Northern Santa Fe mainline. This is an exciting, busy place where some 150 trains a day go through on their way to the west coast. I got a lot of great photos that I can share with you at a later date.

    For those of you who are waiting for direct broadcast satellite radio, it's on the way very soon. Two companys have announced service to start this fall, they are XM Satellite Radio
www.xmradio.com
and Siriuis Satellite Radio
www.siriusradio.com
there is a monthly fee and a special reciever needs to be installed in your car. Thats it for this week see ya.
    Doats called the Kat on Labor day and talked for a very long time, it was so long that I went to take a nap and when I got up they were still talking. She talked to Kat about another half hour and then Kat finally called it quits.

    Speaking of Labor Day, the party at Dick and Colleens had somewhat of a poor turnout with about ten people in attendance. There was a lot of good food and sparkling conversation with a small battle waged against the bees in the neighborhood. We left early due to the Kat not feeling the best yet so soon after her surgery. Rosie Poquette stopped by our house to see the Kat and we persuaded her to go the the party. She also left a big bag of cookies for me, mmmmmmm.

Sept. 9, 2001

Oneida WI. - DOATS HAS A LANTERN JAW

    Getting back to last weeks letter I have some nice photos of the trains and locomotives from the Ill. Rail Road Museum as well as from Rochelle Ill.  The town has erected a park to welcome visitors and allow them a good place to watch the 100 plus trains a day that go though. The Union Pacific double track mainline crosses the Burlington Northern Santa Fe double track mainline just down from the park, with 4 diamonds. I was there about two hours and saw about 15 trains, and this was not a peak time.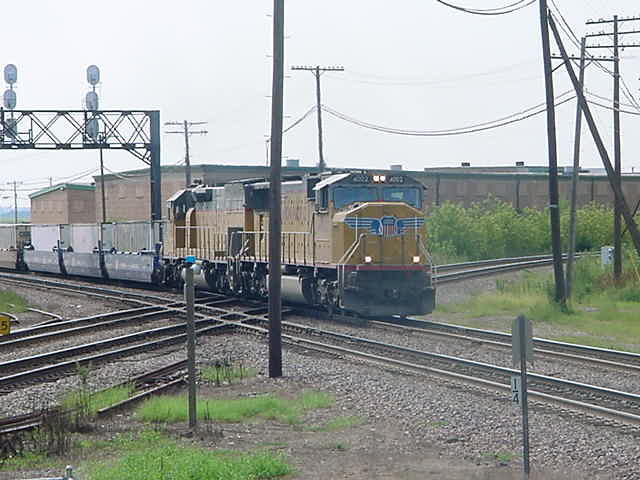 Every one is friendly there and eagar to share stories if they have them about rail roading. There were two engineers from the CSX rail road there and told us some good stories. Live photos are available on the web of this very site on the Trains magazine web site at
www.trains.com
in the upper left side there is a row of buttons, find the one that says web-cam and your there.
THE ROCHELLE ILLNOIS FOUR DIAMOND CROSSING, WITH A HOPPER TRAIN ON THE U.P. MAINLINE HEADING TO THE PROVISO YARD IN CHICAGO

I have provided a page to view recent rail road photos I have taken, and by clicking
RAIL ROAD PHOTOS
you will be able to see them.
    If you have ever listened to the Kim Komando show on the radio, you may know that you can pick up some worth while tips on computer operation. Check out
www.komando.com
for weekly tips as well as featured web sites and web sites that appeal to kids as well.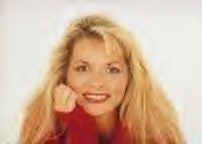 Kim Komando kan be heard on Sat. evening at 8PM on WGEE 1360 khz. AM in Green Bay. Check local listings for a station in your area. Kim takes kalls from listeners who have komputer related problems, so if you have a problem with your konfuser, kall in.

KIM KOMANDO, WHO CALLS HERSELF "THE DIGITAL GODDESS"

Thats it for now, see yah.

Sept. 16, 2001

Oneida WI. - ONEIDA FIRE DEPT. TO HELP N.Y. FIREFIGHTERS FAMILIES

    On Sept. 22 the Oneida Volunteer Fire Dept. along with the Green Bay High Riders  will be sponsoring the fall mudruns at the Fire Dept. grounds. It is unclear yet as to the amount of the proceeds that will acutally be donated to the fund, but if Chief Olson can convince the membership, all of the Fire Dept. share of the profit would be donated and it would be up to the Green Bay High Riders what part of their profit they would like to donate. Racing starts at 12:30, and registration for competition opens at 9 AM. Admission is $5.00 for adults - children under 12 are free, and there is free parking, there are no carry in's however. Food and beverages are available on the grounds.

    Of course the big national story dominating the news now is of course the World Trade Center catastrophe. This has touched everyone in some way, Peg and Dan vacationing in Las Vegas this past week were to return on Tuesday the day of the crisis. Of course they were turned away and were forced to stay in Vegas extra days, it is unclear to me as to weather they are home yet! Of course Bob Van Lanen, and Cheryl Purshock who are Air Force reservists are liable to be called into action, and Steve Purshock who is active may see a change in his orders as well. Brandon who has national sales accounts spoke to a dentist from New Jersey who just happened to be a few blocks away from the WTC buildings when the event happened. He was pressed into service the rest of the day cleaning the eyes of firefighters, and told Brandon just how awful the whole thing was. Of course some local gas stations saw this as a way of generating extra revenue, by raising their gas price to nearly $3.00 per gallon, and not posting the price! This was totally uncalled for as the oil companys said that there was no shortage, and prices were stable. Many of us who were waiting for overnight packages were out of luck with all the planes grounded.

    Check out Kat in Photo of the week, funky glasses eh. By the way thanks to Tim Lade for providing lasts weeks Photo of the Week, if any one has a good photo, send it to THE KAT AND MICK REPORT for Photo of the Week.

    Our garage is coming along nicely thanks to the boys and their help, and Kat is doing better all the time, she ate a little solid food on Sat. even though she was supposed to wait until Tues. but she was full after about a tablespoon of pasta. She visited the doctor this past week and he says she is doing fine and should have no problems. BJ's Jeans and More is doing better all the time and had record sales with the back to school push.

    Craft season is starting to heat up and that will curb my time for writing the news letter. Please bear with me the next two months because the newsletter may be short some weeks.

    We have been selected as subjects for a reasearch group for Web TV and now have the device in our home hooked up. There are e-mail accounts for both of us on it and here are the addresses: michaelpickett@webtv.net and kathypickett@webtv.net. We have to e-mail our responses to questionares back and there is no charge to us, so you can use this as a means for e-mail for us as well. Of course our AOL address is still active as well. I don't know how long this will last, but I will let you know when it is defunct, they said it could last a couple of years, or a few months. That's it for now, see yah.

Sept. 23, 2001

Oneida Wi. - THE VANLANENS ARRIVE HOME SIX DAYS LATE

    Peg and Dan VanLanen were supposed to leave Las Vegas on the day of the terrorist attacks but of course their flight was cancelled. What they thought was to be a one or two day delay turned out to be exactly six days, and they were both distraught about the delay. When Peg found out that the flight was cancelled again on Sunday she wept openly. When they arrived home on Monday they had been gone two weeks and were just glad to be back to good old Wisconsin. The disaster is probably the work of the devil himself, of which there is proof of. Seen above one of the buildings before the colapse was the outline of the beast himself as evident by the photo.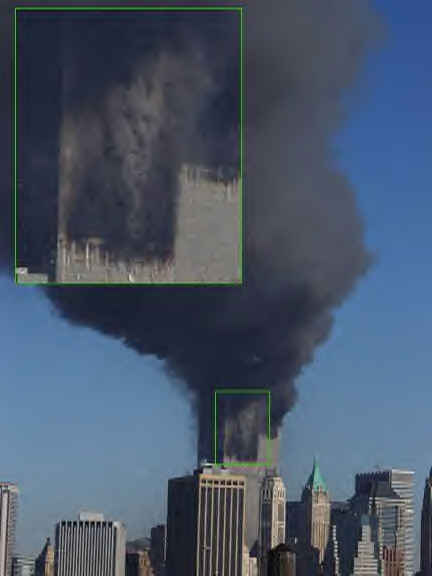 THE FACE OF THE BEAST CAN BE SEEN IN THE SMOKE

CLICK ON THE PHOTO FOR FULL SIZE

    Lance Hernandez, the son of Peggy Kamke had a brush with temptation this week. It seems that he is in the hot lunch program at his school, but he would rather bring his own lunch. In order to reverse this lunchtime routine he had elected to eat a cold lunch already prepared and on the shelf with all the other lunches. It was in fact not for him, but for someone else, and it is unknown who.

Lance apparently grabbed someone elses lunch for himself. For this Lance is not able to watch television at his house for a week.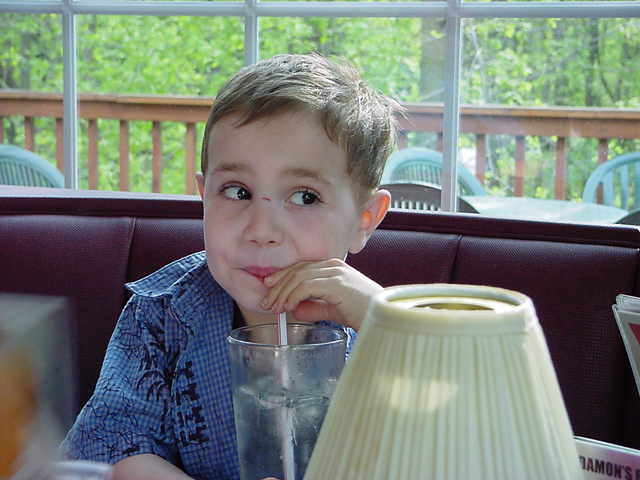 LANCE HERNANDEZ, IS HE BEGINING A LIFE OF CRIME?

    Queen Jean Poquette Hansen has now claimed the prize that is so rightfully hers. Visiting The Kat and Mick Report offices this week she picked up the Barry Manilow Live album that was a prize selected especially for her by associate editor Tim Lade. We here at The Kat and Mick Report are happy to present

and shower the Queen with gifts. As you all know Barry is the Queens favorite musical performer even though he has not released anything since 1978.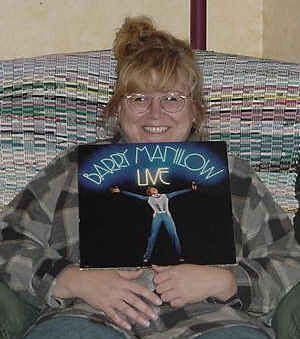 LOOK HOW QUEEN JEAN LIGHTS UP WHEN SHE SEES HER NEW ALBUM

    A new feature will be coming to the web-site in the near future and it will be a way to get rid of items of use to you no longer and maybe even a way to find an item you have been looking for. The Kat and Mick Report now has a classified section where you can put up things for sale or to give away as well as things you are looking for and can't find anywhere. Of course the ads will be put up for free and will run

for two weeks at a time. If you want to post it again you may do so or you may post something else. We are collecting items now for posting so if you have something in your basement or garage for the classified section let us know. Click on the
CLASSIFIED
section on the home page to get there and theres also a button to submit an ad.
I think we will replace the local news link from WGEE with the classified link.

    The Kat is doing well for those of you who don't see her on a regular basis, she has lost 31 lb. since her surgery and continues to lose weight while her diabetes is totally under control without medication. She was told at the hospital that medication was no longer needed for her diabetes, and this seems to be true as her blood sugars have been in the acceptable range since then.

That's it for now, see ya.

Sept. 30, 2001

Oneida Wi. - ONE WEEK LEFT TO PREPARE FOR CRANEBERRY FEST

    It is true that there is only one week until the sale in Eagle River however once that one is over there is not another until November. The best part is that Kat and I don't even have to be there, a deal was struck with Shelly VanLanen Sobieck before she was wed that would require her to run the Eagle River Show for us in return for doing the music for her shower and wedding. It is now time for me to reap the benefits of my toils earlier in the year. I am also going to prepare a catalog and a web page with all the new Items for this year, if your interested and don't want to attend a busy craft show.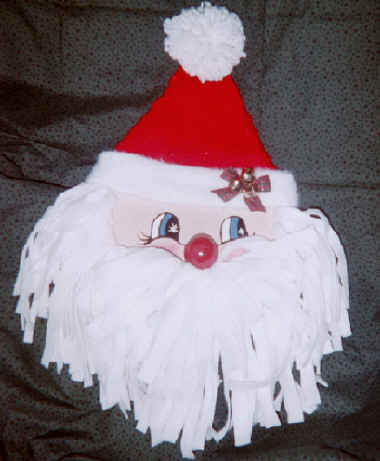 CHRIS CRINGLE ON YOUR DOOR

  There was a little excitment in the neighborhood here this week, just down the road in fact. The house on the corner of County E and Crook Road apparently had a chimney fire and they called for the fire dept. I was still in bed when the pager went off and I imediatly arose and went down there. When I got there the roof

was on fire and spreading fast, and the owner only had a six foot ladder. He held it and I pulled myself onto a lower roof with my fire extinguisher. The Policeman who was there got his fire extinguisher  and brought it up for me, between the two extinguishers I got it knocked down and by that time they got the garden hose up there for me. We kept it under control untill the trucks got there and we could rip it open and put it out.

The top of the metal chimney was destroyed and a four foot square of the roof. Water damage was very minimal and a tarp was put down on the floor. All in all the home owner was very lucky, first in the fact that the policeman was just driving by and spotted the fire secondly that the both of us were able to control it until the FD trucks arrived.

I hope the local terrorist paranoia soon dies down, everyone seems to be acting a bit strange and local officials are taking it to the extreme what with closing Lombardi ave. during the Packer game, and closing all the doors of the courthouse except for the main front doors. There is talk of National Identification Cards, I wonder how long will it be before I will be asked when I cross the county line if I have "my papers."

    Don't forget about the Halloween party at the end of the month, and of course we are less then two months away from the turkey bowl. Details for all of this are on the home page. Also this late word just in, Cheryl is somewhat concerned she may be called into active duty. With the terror attacks it is unknown just how many will be called to active duty. She also straightened me out on the age factor, as I was telling her that her and Steve are far too old to be called to active duty. It seems that people in their fifties and sixties are in the reserves, trying to pick up the years for their retirement. That fact is somehow not reassuring to me when I think about who will be shipped over to fight the Talaban. I know that if I get drafted I'm going to go right for that Bin Laddan and not even fool around with that Talaban. I could tell you one of my interesting stories here, but I've run out of room so I think I will save it for another time. Thats it for now, see ya.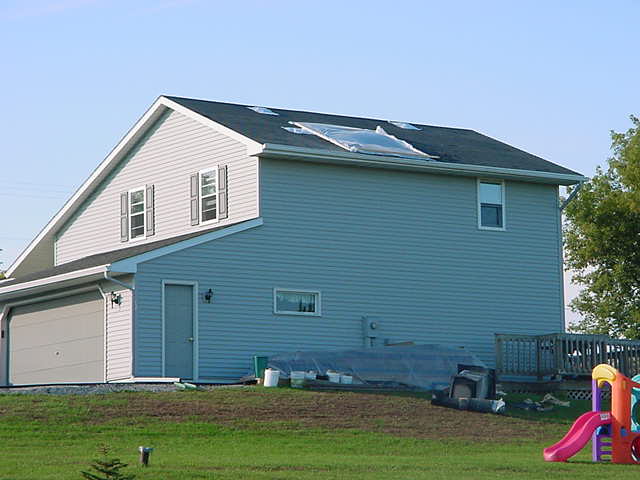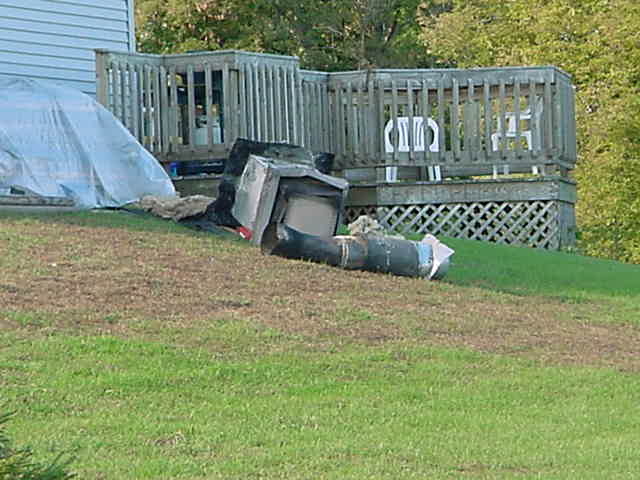 THE FORMER KITCHENS HOUSE ON THE CORNER OF E AND CROOK ROAD

metal chimney lyes in shambles

only a ten foot square is damaged in the roof