news from oneida-news from oneida-news from oneida-news from oneida

  NOVEMBER 22   2001     2  PM POQUETTE FIELD

November 4, 2001

Oneida WI - DYLAN CONCERT- OK IF YOU DIDN'T HAVE TO PAY FOR YOUR TICKET

    Tuesday October 30, 2001, I attended a Bob Dylan concert at the Brown County Arena. The show started a little late about 15 minutes, which is not unusual at a concert, so the crowd was a little antsy to start with. The band came out then Mr. Dylan appeared everything looked good the lighting was perfect, the stage looked neat and professional. They struck their first note on the guitars, base fiddle, and drums and the sound was perfect, which is not normal at the arena. It usually sounds like announcements being made at a train terminal with cattle in the backround. I guess their professional sound people know what their doing and did their job well. Everything was heading toward a perfect concert, then Bob Dylan began to sing, I guess you could describe it as that, I know he always had a certain style and it was always a challenge to

figure out what the lyrics were to his songs. But come on when you can't even understand what he is saying when he is introducing the members of the band then he is more then a little off. There were only two songs that I recognized, I didn't know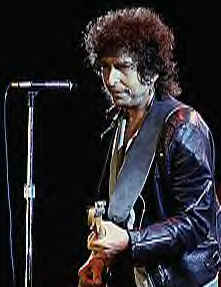 BOB DYLAN WHO PERFORMS IN A STATE OF CONFUSION

the title of the first one, and the second was Like a rolling stone. People began to applaud when they realized what it was, but by this time it was the encore and I think they may have just wanted to get it over with. His guitar and harmonica skills are still in tact so it wasn't all bad. It was an experience and the ticket was free so it was OK, but I think Bob should consider retirement, or at least cut down on the drugs.

    My sister Faye contacted me last sunday after I got done with some maintenance on the web site with the news that their car had broken down on US 41 and they needed to have it repaird before they could get home. The Kat went and picked them up in DePere while I tidyed up the craft factory and they spent the night here. The next day Dick Poquette went and picked it up with the wrecker and confirmed that the transmission had expired. They are deciding on what to do with it, have it repaired or junk it.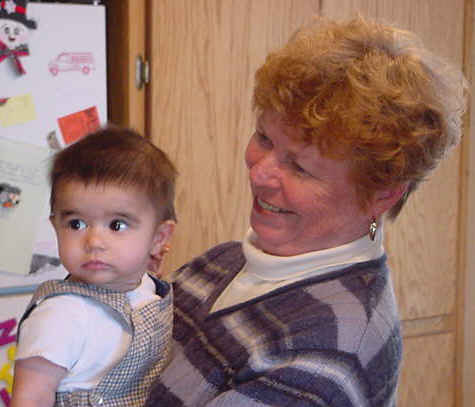 The next day I stopped at McDonalds and had a Big Mac, while I was waiting I noticed that all the help in the kitchen and the whole restaurant for that matter were all older probably retired people. What a wonderful thing this would be for Faye and Don I thought, this would be a wonderful part time job that they could do together and earn extra money to

augment their SSI and pensions. Then I began to think a little more about that, I could just see Faye at the front counter taking an order from a man about 55 and he orders a Big Mac and Fries. She comes back with a question asking the man if he knows how much saturated fat is in the food and when he last had his cholesterol checked! Some one then asks her if the restaurant has a smoking section to which she replies "no, why don't you just step back in the kitchen by the grill where we all smoke, want a beer?" After I thought it over I never made the suggestion. Faye and Don left for Menominee Falls with Moureen and her new son Pete on Monday afternoon, after a fine lunch at Players.

    Peggy Kamke has had some cosmetic procedure done which causes her face to turn green, kind of reminds me of the Incredible Hulk. 

FAYE HOLDING GRANDSON PETE

OR PD OVER AT BRIG AND PETERS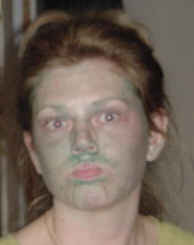 PEGGY OR INCREDIBLE HULK? ROLL

YOUR CURSER OVER THE IMAGE

AND YOU DECIDE

    Brandon has the new shirts for the Turkey Bowl, and they will serve us for many Turkey Bowls to come. If your a player don't forget to leave the shirt behind so we have it for next year. Check out the count down clock at the top of the page to see how many days are left for the big game. Thats it for now, see ya.

November 11, 2001

Oneida WI - XPFL FANS AWAIT MONSTER "GAME OF THE YEAR" TURKEY BOWL

    Well here we are folks less then two weeks to go before the Turkey Bowl, the much anticipated game has many of the players anxious and the fans are making their last minute wagers. THE KAT AND MICK REPORT has obtained reports from Vegas suggesting that the favored team is the Red Gobblers, however they are not leading by a great margin. The betting public is reserving the right for a come back by the Blue Jello's, with off season trading and some rookies the teams seem to be a bit more balanced.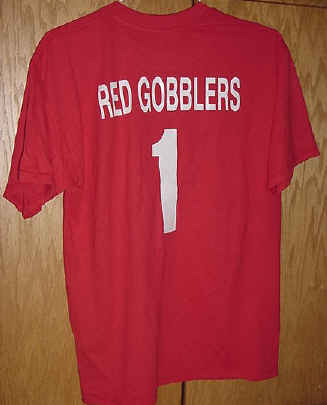 NEW XPFL UNIFOMS WILL ADD A LITTLE EXTRA TO THE GAME

The new score board has not been unveiled yet and fans are wondering just what will be on it.  There is a lot of banter among fans about a jumbotron, although we here have not heard about any score board details. The XPFL has asked THE KAT AND MICK REPORT to pass along in the newsletter this week, a reminder that seating will not be provided and you should bring your own.

    Saturday was the Craft Sale in Neenah and it was a good one compared to the first two. The Sale is held in the Neenah High School which is an old Kolhls food store converted into a school. The show is small by comparison with our other three shows but a high volume of people attend making it a profitable show. Many people ask what is the big seller this year and I'd have to say the wildly popular Shadow Cats. Sales were good and we only took three back home.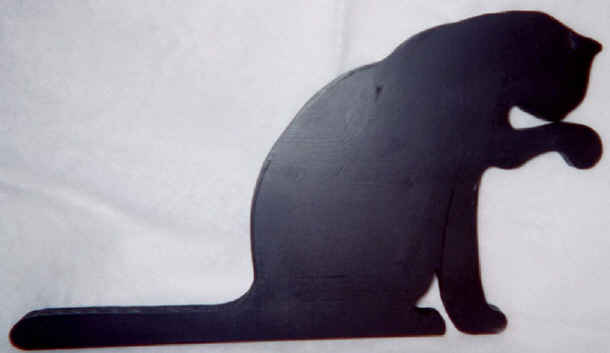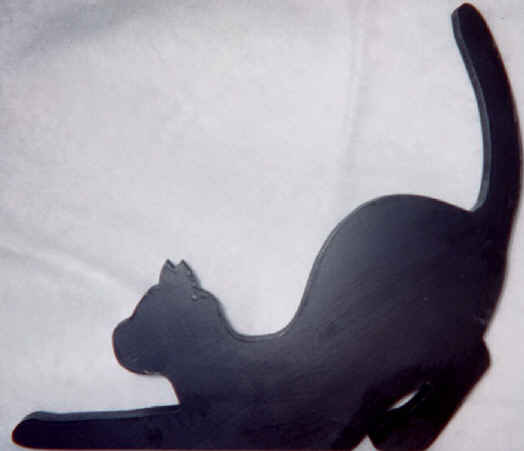 THESE SHADOW CATS ARE DIFFUCULT FOR THE KAT TO MAKE DUE TO THE DETAILED PAINTING AND DECORATING BUT HER HARD WORK PAYS OFF AS THEY ARE ENORMUSLY POPULAR

    The XPFL cheerleaders have counted their numbers and have totaled out at 8. It is reported that no flimsy cheerleaders even applied, so Kat Pickett (head chearleader) didn't even have to reject any flimsy girls for cheerleaders. We are happy to report that all eight cheerleaders are strong, sturdy women. The Kat is working on the cheerleader outfits and should have them ready for Turkey Bowl Day.

    Last sunday I spent the day with my friend Steve Konopka at the Oneida Fire Dept. Some time ago our tower was hit by lightning and our antenna was taken out by a direct hit! We have since purchased a new larger antenna and Sunday Steve and myself mounted it atop the 70 foot tower. I would like to say that I helped Steve on top of the tower, however when it comes to climbing I'm a wimp. I was the ground crew and sent things up the tower via a rope, and when Steve needed something pulled or eyed up I was there.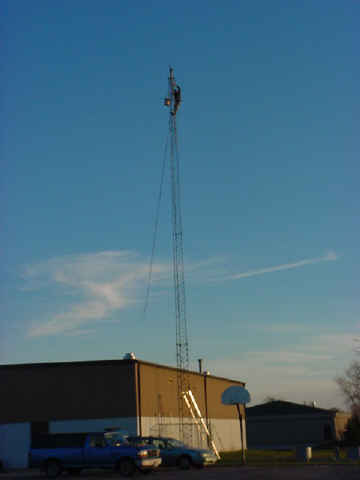 We worked until dark and the antenna was up when we quit. We were unable to put it on the air due to a wrong connector on the existing heliax, so Steve will have to climb the tower one more time and install the connector. At the same time we will rehang the cable to a more desireable area.

    IMPORTANT NOTICE

This message is for Poquette Family members only - If you are planning to

attend Thanksgiving Dinner at Trixies house please contact her at 920-869-1364 for instructions on what to bring. Dinner will be served between 12:00 and 12:30, thats it for now see ya.

November 18, 2001

Oneida WI - FANS ALREADY SEEN "CAMPING OUT"  WAITING FOR TURKEY BOWL GATES TO OPEN

    With only days to go before opening kick off of Turkey Bowl 01 several people have been seen near the gates of Poquette Field camping out and waiting for a good spot. Momentum is certainly building in these last days before the big event. Players have been nervously looking over the field as if they were imagining what was going to happen on Thrusday. Everything is now in place, the referees are rested and in town, the beer vendors are stocked up, as are the turkey dog vendors. The field is in great shape and I'm told will have the lines painted on the night before the game. Of course there is the last minute media flury as players and coaches get their last minute interviews in before game day. The players of both teams will have butterflies in their stomach as they gulp their turkey dinners shortly before game time on Thursday. We can expect players of both teams at that point to have their "game faces" on and look their worst or best depending which side you are pulling for. An equil number of spots has been set aside at Poquette Field for fans from each team, however the only seats that will be there are what the fans bring in through the gate, as Poquette Field has no seats of its own.


    Friday was thought to be a record crowd at the chicken night ritual, however as things go the crowd was small. Again to try to make attendance grow the people at Cliff and Ceils gave out extra food and drinks to the people who did attended. This reporter even invited extra people to the friday night extravaganza and they did show up, my thanks to Randy and Bonnie and Aimee Meanie Miney Moe (AMMM for short) who helped to try to make the event have a record turnout. As it turns out the people who are the bread and butter crowd of Chicken Night are the ones who didn't make it. Queen Jean Poquette Hansen and her son Prince Ben were on hand to greet the newcommers to Chicken Night.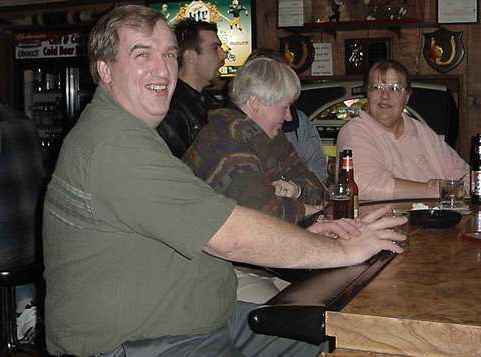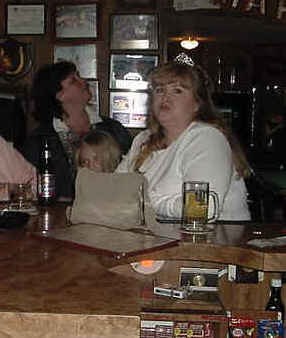 THE CROWD WAS SMALL BUT QUITE CONTENTED WITH ALL THE EXTRA FOOD AND SPIRITS GIVEN TO US COMPLIMENTS OF C&C

    It was a good thing too as she told the wonderful story of how Chicken Night began and who the founder is. Prince Ben who loved to go out and eat on Friday nights was asked by the Queen one time where he wanted to go that night to eat. The Prince who was hardly ever asked his opinion on eating establishments and had not a qualified name ready replyed, "that chicken place". Thus from "that chicken place" eventually came Chicken Night.  Chicken Night actually became a convenient spot for Randy, Bonnie, and Amy to meet us as we all had things to pass on to one another, hopefully this will become a spot we can all meet more often just for sheer enjoyment without any other functions to perform.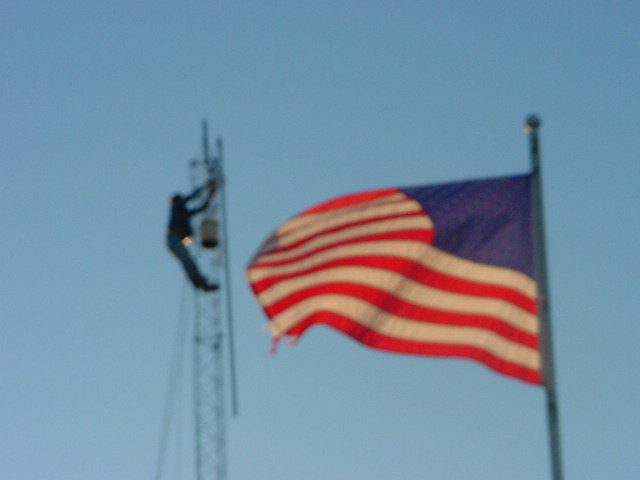 STEVE KONOPKA HANGS FROM THE 70 FOOT OFD COMM. TOWER

    This week Steve Konopka, my friend and Town of Oneida resident put the finishing touches on the tower, and antenna at the Fire Dept.

Soon  the antenna will be radiating again and our Base Station will be fully functional. Steve installed a new antenna and a new end on the feedline after removing it and inspecting it for damage.  

    The Turkey Bowl is in four days don't forget to bring your own seating, appropriate clothing, and a friend. If you are coming for the meal, call Trixie at 869-1364 to see whats needed or what you are schedualed to bring. Bring signs to the game supporting your team of choice, if you don't know which one that is then go to the
XPFL
page and pick a team with your sons, daughters, or people whom you like. Support the cheerleaders and help them cheer, lets all have a good time and make this the best Turkey Bowl ever. Thats it for now, see ya.
    Dorie a KAT AND MICK REPORT reader has written in asking just what happened to Mark Churmura and is he still in Green Bay?  We don't know where he went after the court proceedings were over. What we do know is that he was cleared from his doctor and was trying to gain emloyment on an NFL team. He still gets "stingers" in his neck signifying possible vertebra problems which is probably why no team has picked him up. He did try out for the Dallas Cowboys and possibly some other teams. His home was in the Heartland area near Milwaukee. If we find out any more we'll pass it on in the newsletter

November 25, 2001

Oneida WI - TB-01 BOASTS RECORD TICKET SALES, TALK OF EXPANDING SEATING OF POQUETTE FIELD

    The talk around Oneida is that with the wild success of TB-01, Poquette Field will be expanding. Increasing the number of seats is a must, along with sky box seating for corporate purchases. To augment the income from ticket sales, the board of directors of Poquette Field may build a Mall, and of course an XPFL hall of fame. The game was well attended, and there were a full compliment of cheerleaders on the sidelines for both teams. The cheerleaders were at times blocking the view of announcers Mike Pickett and Dave Poquette, which is the price we have to pay for having cheerleaders that aren't flimsy. Some of the cheerleaders were seen taunting their counterparts on the other team, and at one point a fight broke out on the sideline between Jean Poquette Hansen, and Trixie Sobieck. It was quite an entertaining site to see the two frisky (and somewhat liquored up) team supporters trying to gouge each others eyes out, and Jean Poquette Hansen was sporting a bite mark on her arm to prove her team dedication. I know that it was Trixie that caused it, as upon closer examination the two marks left by the front teeth were about a half inch apart which would match the bite mold of Trixie Sobieck.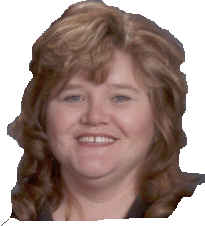 THE HALF INCH GAP IN TRIXIE'S BITE MATCHES THE MARKS ON JEAN POQUETTE HANSENS ARM

Jean Poquette Hansen feels that the cheerleaders should all be on one squad next year,  but there is some disagreement in the ranks about this, therefore soon we will have a KAT AND MICK REPORT poll on what should happen to the cheerleader squads. Think it over and if you have any suggestions for questions, write in and let us know.

The game itself was won by the Blue Jello's, a 54 to 24 victory. Even though team captain Brandon Pickett informed us at halftime that the Red Gobblers would come back in the second half they were unable to keep their word and failed to win. That now makes the standing even, with each team winning one game each. The Red Gobblers and The Blue Jello's are the oldest rivalry in the XPFL and are now in a dead heat in the standings.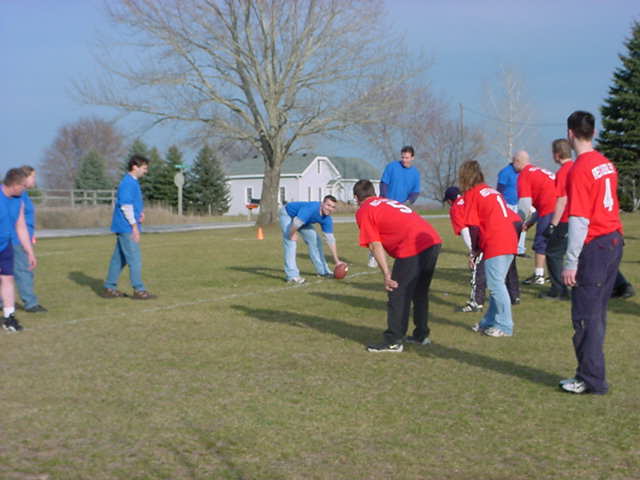 We have a bit more news about Mark Churmura and his where - abouts. One of our KAT AND MICK REPORT secret sources says that he has been seen entering the Oconto County Court House several times. The word is that he is working with his lawyer, but no one knows on what.

EARLY IN THE GAME THE TWO TEAMS EACH FOUGHT HARD FOR THE MARY POQUETTE AWARD

    Bob Van Lanen reports that there will be a birthday party for his daughter Danielle on December 1, and it will be at Game World on Pilgrim Way (behind Coca Cola). It will start at 11 a.m. and run until ???? There will be a pizza lunch and soft drinks, and if you wish to attend please call Bob at 608-243-1863. Bob and Sandy had their daughter Elizabeth baptized on Sunday Nov. 18th.  While the paster was holding Liz and pouring holy water she grabed the lavilear mic. and belched loudly into it for the whole congregation to hear. Sandy says this is what she inherited from her father.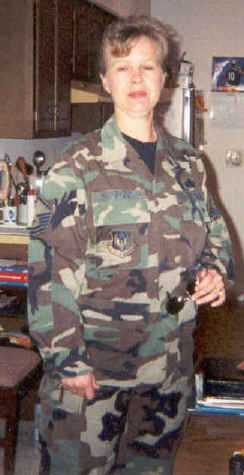 Cheryl Purshock has accepted a job in Belleville Ill. and will be moving there soon. She will still be a non producer working for the government and will still be working in the military sector. Purshock says that military life is the only thing she knows and would not know how to exist in the private sector. Husband Steve and son Jeremy along with her daughter Crystal will remain in Fort Walton Beach for now, and they will keep their house. When Steve is out of service and Jeremy is out of High School they may then move to Belleville.

PURSHOCK PREPARES FOR HER DAY IN THE AIR FORCE

    Attention Photographers: I do not have many usable photos of the Turkey Bowl to use on THE KAT AND MICK REPORT if you have any I can use please e-mail them to me or get them to me and I will scan them and get them back to you. There will be a new XPFL page in the future and I would like to use them there.

    Regrettably four reporters were murdered in Afganistan last week, and as a major news gathering organization THE KAT AND MICK REPORT wishes to extend sympathy to the families, luckly our staff in Afganistan were unharmed. Thats it for now, see ya.