news from oneida - news from oneida - news from oneida - news from oneida

12-2-01

Oneida WI - EXCITEMEMT SLOWLY DIES DOWN FROM TB-01 FRENZY LEVEL

    While the game is over and the cups are picked up and the field is shut down for another year, fans are still talking about the big event. Rookies are especially taken by the game, and vow to return next year, in some cases to even the score both on the board and on the field. The Turkey Bowl is a year long planning event, and even as you are reading this plans are underway for next years event! A controversy developed among the XPFL cheerleaders as to weather there should be actual sides to the cheerleader squads. Jean Poquette Hansen feels that the cheerleaders should all be on one squad and should cheer for both sides, however the first Turkey Bowl saw this arrangement and I felt that the cheerleaders on each side was better. This decision is too inportant to let the cheerleaders decide by themselves, and it will effect how everyone cheers for their team. In order to settle this major controversy we have once again turned to the web poll located at the bottem of this column. Remember to cast your vote by the deadline and you will only be able to vote only once from each computer. That should be able to keep people from "stuffing the ballot box.

    There's more news on the fight that broke out between Trixie Sobieck (a Red Gobbler cheerleader) and Queen Jean Poquette Hansen. It seems that Jean Poquette Hansen provoked Trixie into the attack on Turkey Bowl Day. Jean Poquette Hansen was seen consuming large quantities of alcoholic beverages throughout the day and before the game. KAT AND MICK REPORT reporters have uncovered a drinking problem in the XPFL cheerleaders, Trixie Sobieck was also seen drinking before and during the game while in uniform, as was Jean Poquette Hansen. It is not known if other cheerleaders were seen drinking, but XPFL cheerleaders are supposed to project a holsom image, not one of a lush.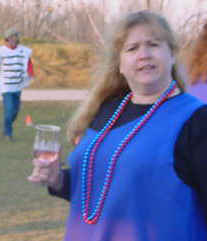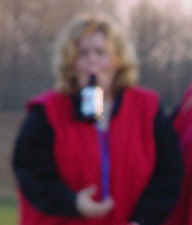 XPFL CHEELEADERS DRINKING IN FRONT OF LITTLE CHILDREN

I can only think of the similar story of a Santa Claus who was drinking on the job at the Macys Parade when another man chastised him for his appearance in front of the children, this man later turned out to be the real Santa Claus (as determined by the U.S. Postal Service, a US government office.) One can only hope that this situation does not end up in court.

    More now on Cheryl Purshock and her new job, she will be starting the job this week and she will be moving on Tuesday. Purshock informs us that she will still be working on a base, and she heard about the new job on the internet. She simply signed on to www.nonproducers.com and the government job was posted there. Purshock says that she has to drive through East Saint Louis to get to her new job, so we'll see if she still has wheels after the first week. Just the same Cheryl, THE KAT AND MICK REPORT wishes you good luck in your new job.

    Not much else to report this week, so thats it for now, see ya.

12-9-01

Oneida WI - SECOND PLACE COSTUME CONTEST WINNER TYLER VANDENBUSCH BREAKS PELVIS

    Tyler VanDenBusch who frightened everyone with his gorilla costume and his wild like ape imitations at the halloween party regrettably injured himself while playing at a football game. The week before Thanksgiving he played  a non XPFL sanctioned football game and got tackeled and injured his hip. He went to the doctor the next day and X-Rays were taken. Upon inspection of the X-Rays by the doctor nothing could be found wrong so the doctor prescribed pain medication and told him he could go back to work in a week. He went to work a couple of days then saw a specialist where more X-rays were taken, when the new doctor looked at the X-Rays he looked at Tyler, then looked at the X-Ray again, then looked back at Tyler and said "I dont know how you are standing, your pelvis is broken in three different places." Tyler, who is an active snowboarder will likely be off of work for the rest of the year and will not be able to go boarding for a long time.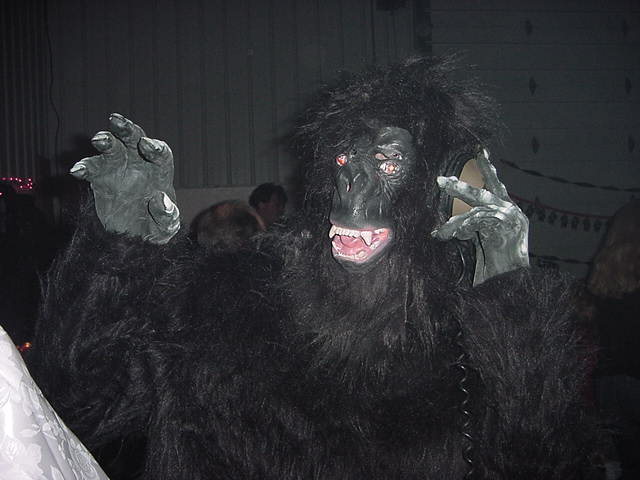 Richard Poquette was alamed one day when he came to visit and was unable to find either me or the Kat. Kat and I were out walking, and I had left the kerosene heater running in the garage, Dick upon his arrival and being unable to find us saw the heater running and put together this scenario.

WE PROBABLY WON'T BE ABLE TO EVER RECRUIT TYLER FOR THE TURKEY BOWL

We lit the heater to work in the garage and became ill from working in the "carbon monoxide". Feeling poorly we then went upstairs to lay down where we got continually worse until we finally expired locked in a loving embrace. Dick arrives at our home unable to find us sees the heater, then called Trixie in a panic as he was not able to find us yet, Trixie advised him to look in our bedroom. He refused bitterly not wanting to have the everlasting memory of finding our stiff, lifeless bodies in who knows what of state of decomposition. He then drove around the neighborhood looking for us thinking we might have been walking, but alas he does not find us as we evade him on the side streets. This only adds to his panic and I'm sure he was ready to notify the funeral home any minute. He then decides to return to our abode where we already had arrived moments earlier, in perfect health. He was visibley relieved at seeing us and then began to scold us about the heater and the whole situation.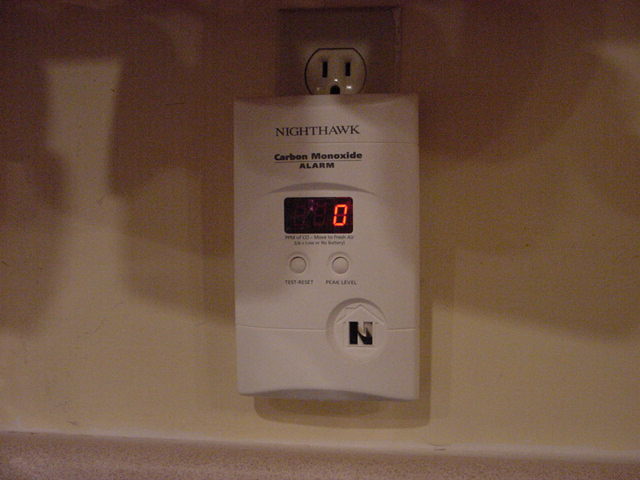 I assured him that I had done this many times before and there was very little if any Carbon Monoxide lingering in the house. He refused to believe me and the next Sunday he showed up here with a brand spanking new CO detector. I guess we'll use it if it makes him feel better. The detector had been on 0 since I pluged it in. (with the heater going)

THE NITEHAWK CO DETECTOR FROM DICK

    This week I stumbled upon a web-site for the town of Hobart. It looks like they spent a lot of money to have a site done professionally by a web builder. Good to know the people of Hobart are spending their tax money wisely, and you can visit the site by clicking on
www.hobart-wi.org
.
    The Fat Club party will be at Judy's house on Friday December 14 at 5:30 PM. If you have questions call her or e-mail her at 845-5285 or
judyjutre@aol.com
. 
    Vote on the Cheerleader question yet? If not here's your chance, see the ballot right below. Only one vote per computer will be allowed however. Thats it for now, see ya .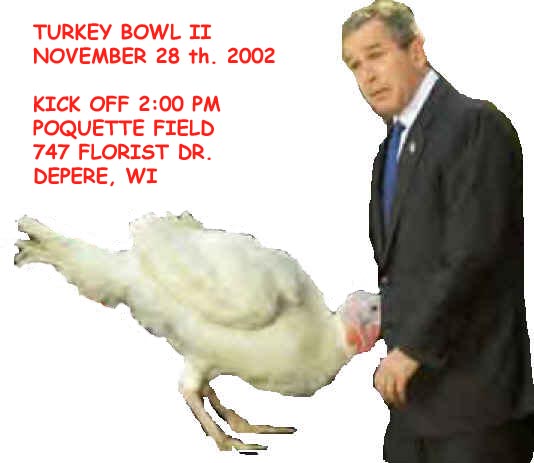 12-16-01

VIOLENCE AGAIN BREAKS OUT AMONG XPFL CHEERLEADERS, JEANNIE AND TRIXIE

Oneida Wi - XPFL Cheerleaders may be experiencing their darkest hour with the recent violent behavior exhibited by Jean Poquette Hansen and Trixie Sobieck. The two attended the annual "Fat Club" Christmas Party held at the home of Judy and Scott Treml and were unable to keep their hands off of one another.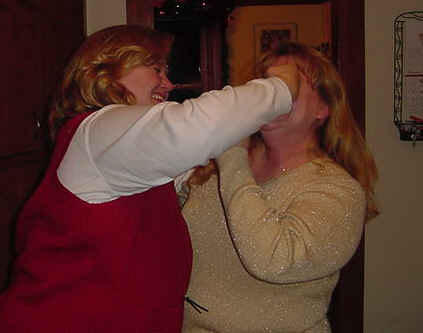 KAT AND MICK CAMERAS, CATCH CHEER-

LEADER SCUFFLE IN TREML KITCHEN

It is thought that this argument broke out about food due to the fact it broke out in the kitchen of the host home. When the fight broke out at the Turkey Bowl people were concerned that they may hurt one another and they broke up the fight and pulled them off of one another.

This time people seemed to ignore the whole situation, perhaps becoming bored with their petty disagreements, or maybe thinking that they couldn't hurt each other even if they tried.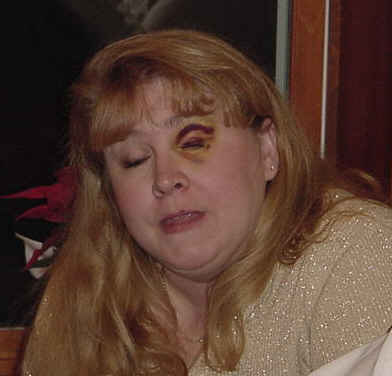 But the fact is that Trixie punched Jean Poquette Hansen into 2002 about three weeks early. Everyone had already eaten all the steak so there was nothing to put on her shiner except some steak gravey and noodles, so she had to suffer the conquences. As usual the whole situation was again brought on by drinking.

JEAN POQUETTE HANSEN, UNCONSOLABLE AFTER INCIDENT

The fact is these girls are consuming hard liquor and are unable to handle it. Something will certainly come down sooner or later from the commisoners office on this behavier.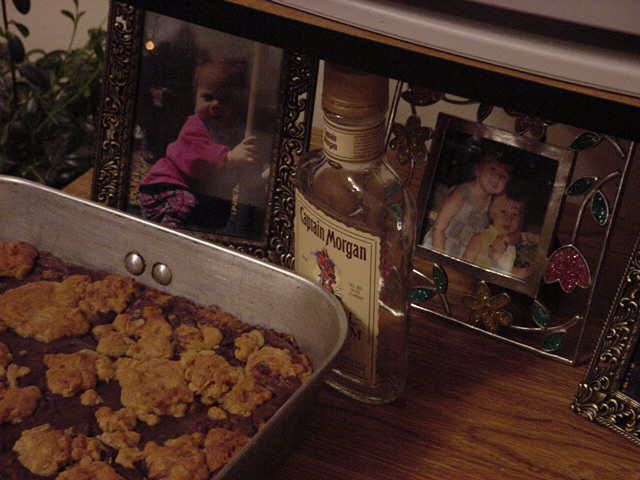 CHEERLEADERS TRY TO HIDE THE BOTTLE

    With a total of 15 votes in, the cheerleader poll is final and the XPFL has announced that the cheerleader squads will remain the same as TB-01 with seperate teams.

    Cheryl Purshock has informed us that she is all moved into her new job and into the base housing, and that she will be in the base housing for a couple of monthes. She is not used to the cold mornings as she complained about the temperature being 26 degrees.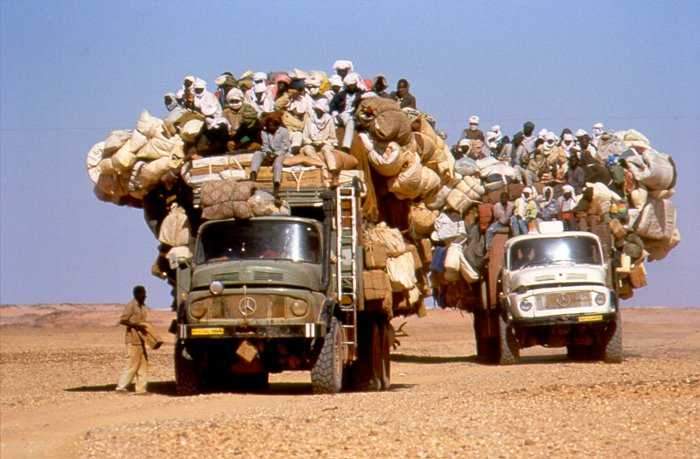 Lucky for Cheryl the Air Force provides enough help and vehicles for the moving job. As you can see on the photo on the right she has a lot of stuff to move. I told her to roll her clothes and she would get more in the bag.

I don't think she listened.

MOVING DAY FOR CHERYL PURSHOCK

    Christmas eve for the Poquette Family will be at the Picketts this year as usual and the final touches are underway. This year more space is being added as gathering area by utilizing the garage, it is finished off and heated as it will become the Kat's new workshop. A huge Christmas Tree will adorn the area on one end while table and chairs will furnish the rest. The party will start at 6PM and will feature a tape of highlights from the Turkey Bowl. People attending should call the Kat at 920-869-2368 or E-Mail their intentions on their food contribution. Thats it for now, see ya.

12-23-01

SHOPLIFTER ARRESTED AT BJ'S JEANS AND MORE

Oneida WI - The shop BJ's Jeans and More owned by Brandon Pickett and Jodie Killinon had their first official shoplifter arrested one week ago on Saturday. The Shop located at 412 South Military Ave. Green Bay opened it's doors for business April 1 of this year and has also been broken into and robbed shortly after the grand opening. This incident involved a woman who was trying on clothes but not taking them off when she left the dressing room. She walked out of the store with them on and Jodie followed her out to her car.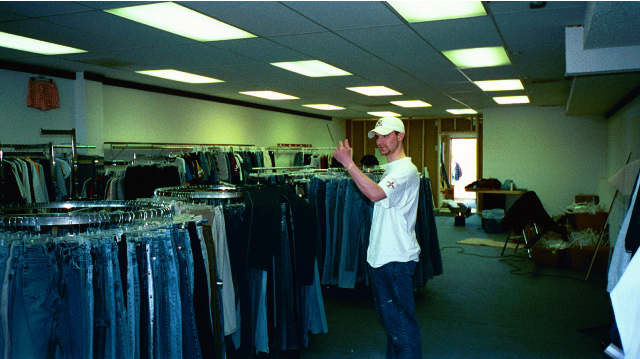 BRANDON, AT WORK AT BJ'S JEANS N MORE, OR AS IT SEEMS

Brandon called the Police and then went out to the parking lot himself to subdue the alledged thief. The Police arrived shortly after and took care of the offender, and Brandon and Jodie went back to work. This just goes to show you that crime does not pay. The perpetrator of this crime was caught and the merchandise returned however the earlier incident mentioned is still an unsolved crime. That incident cost the store a new door, a cash register (destroyed by the theives), and several hundred dollars in cash and merchandise.

    With Christmas close at hand the finishing touches are being placed on the breezeway and garage today, just a few more moldings and lights to fit and the areas will be ready.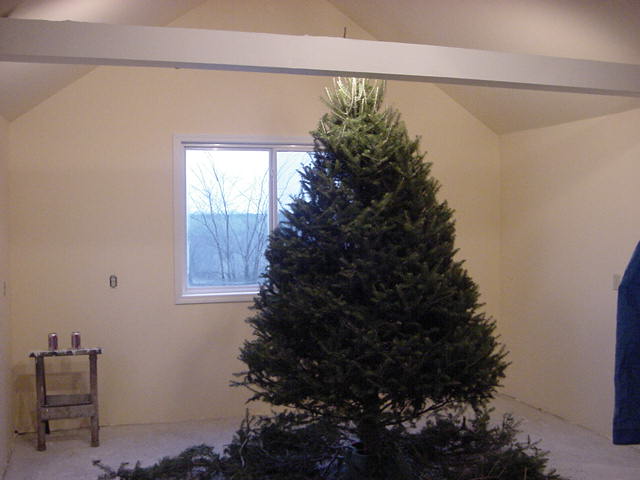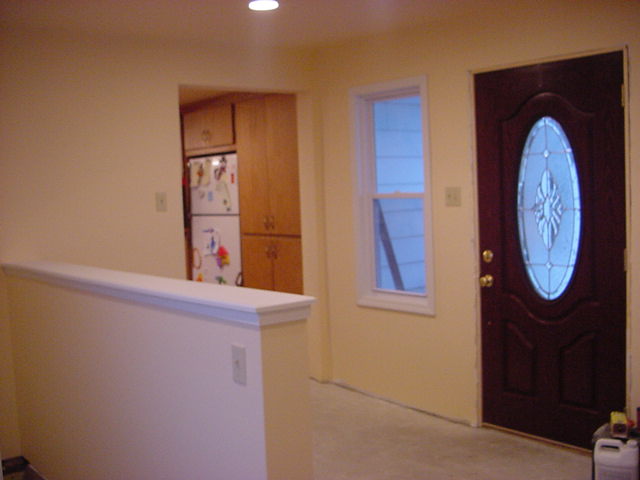 TOP PHOTO - GARAGE    BOTTEM BREEZEWAY

The Christmas tree will be in the garage and will be easy to throw out when it is junk. Simply open the garage door and push it out. Bare concrete will be left for floors with a few rugs thrown down for a more lived in look. Finished floors will be installed after the celebration of the Hollidays and the hustle and bustle of people visiting for Christmas is over. Scott Stangel (a.k.a. Scottie Too Hottie) helped with his professional painting skills, as well as entertained us with his

professional drinking skills. The extra room will be a blessing for the Christmas Eve celebration tommorow night. I was thinking that maybe poor Ma wouldn't approve of this Christmas in the garage idea if she were here, and I fear that if she were here she might have to kill herself. Again.

    The Christmas Eve celebration starts at 6PM at the Pickett home and will have food and beverages. Midnight Mass which is really 10-o-clock Mass will start with the Christmas concert and will feature a duet of Kat and Joanie singing the first song OH HOLY NIGHT at 9:30 PM if you want to see that. Joanie will also sing Ave Maria Solo, and has a part in a song with a quartet. If you have questions on the Christmas eve celebration or on what to bring, call the Kat at 920-869-2368. That's it for now, see ya.


12-30-01

CHRISTMAS EVE AT PICKETT HOUSE CALLED A SUCCESS

    The weather was good and everyone got a place to sit and food to eat. That was the report from people who attended the annual Christmas Eve celebration at the Pickett household. Those who were interviewed leaving the event commented that the ham was tasty and there was no shortage of refreshments for those who wished to indulge. The extra room provided by the garage allowed us to store people evenly throughout the structure, allthough there was a lot of people piled up in the living room where two showings of the Turkey Bowl were held. The first showing was at 6PM and the second was at 7:10, second showing by popular demand.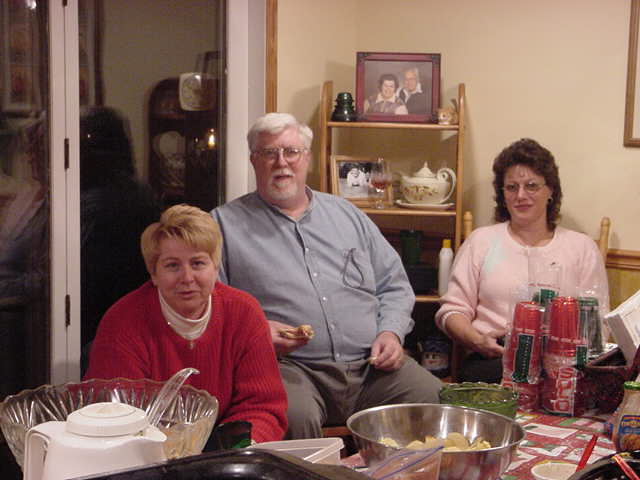 JOANIE AND TIM ALWAYS SIT NEAR THE FOOD, CLEAN SITS NEAR THE WINE

At about 8:45 Joanie arrived back at the celebration to pick us up for choir at Midnight Mass. The pre- Mass concert started at 9:30 but we were required to be there by 9:00, to warm up. Apparently our  efforts were in vain,

as Trixie said all our songs were bad and we had no good selections. She and her other sisters provided a cheering section in church however, and even got the entire church to applaud individual solo performances, and other selections during the concert.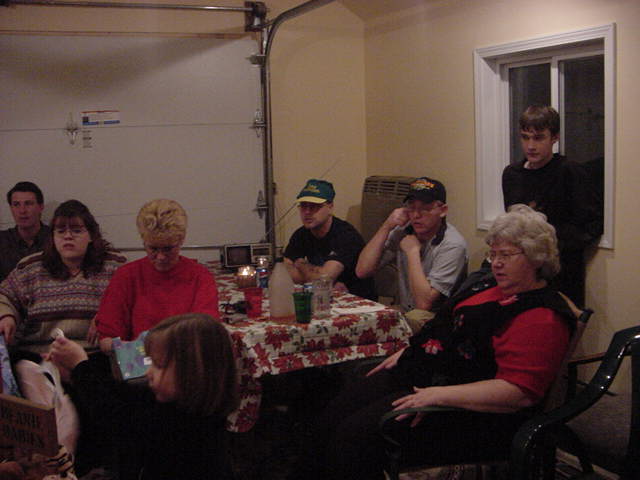 It didn't last though, as soon as the concert was over so were they, except for Trixie and Kevin Sobieck and Peg and Dan VanLanen, and they didn't do any clapping after that. Father probably wouldn't approve anyway.

POQUETTE FAMILY MEMBERS SHOWN "STORED" IN THE GARAGE

    Plans are under way to convert the Town of Hobart to the Village of Hobart, 50 signatures are needed on a petetion and it will need to be presented to a judge who will order a referendem, probably in the early spring election Feb. 19th. The petetion process was taken charge of by town residents Richard Happel and Bob Reeners. It is believed that Village status and incorporation is needed to halt any annexation by neighboring communities. It is the opinion of THE KAT AND MICK REPORT that this is just another way to extort money from the Hobart residents in the form of taxes. Becoming a Village just presents another whole set of problems that are solved again by throwing money at them. It's just another way for the fat cats sitting on the board to get a little fatter, and a little more powerful.

    THE KAT AND MICK REPORT home page will be getting a new look for the new year. The page will be streamlined by removing the clutter and making the page easier to load. Links to pages will grouped and labeled so as to make the pages easier to find. All in all the front page will have a more clean professional look. Other pages will be overhauled as well as the rebuilding process unfolds. Comments will be welcome by clicking the webmaster icon at the bottem of the "new" home page. Thats it for now, see ya.

All of the photos taken by
THE KAT AND MICK REPORT
photographers are available for viewing from our photo posting service by clicking or cut and paste
www.photoisland.com
then enter katandmick as the username and xmas01as the password.